News
Media interaction with Nandita Das and Kamal Musale at MIFF 2014
After the screening of the documentary 'Millions can walk' at Mumbai international film festival, the talented actress Nandita Das shares her support towards the non-violent struggle and to all the people that are contributing with their work to spread and increase the awareness of such movements.
Commenting on 'Millions can walk', Kamal Musale said: "We wanted to present it from the point of view of people involved in the march. This is why we had to cast the protagonists in advance and we had to follow them in their villages and saw them in their natural environment before we could follow them during the march".
Commenting on the release of the film, the actress said: "We think non violence is kind of weakness but I think there is a great amount of strength in this non violence and this is why this march is so special".  And also "Great things are happing in our country, there are lots of wonderful people who are very quietly doing amazing work but often we don't have to know"… "Now it's up to all of us and to the media to spread the word so we create a demand for such films".
Nandita Das supports the non violent way of action
The talented actress pledges her support towards the non violent struggles as portrayed in the upcoming documentary 'Millions Can Walk'
The documentary  'Millions Can Walk', which is based on the Jan Satyagraha movement, has been garnering already lot of praise. Directed byChristophe Schaub and Kamal Musale, the film was premiered in India on February 6, 2014 at the Mumbai International Film Festival. Added to the list of admirers is award winning actress Nandita Das. The actress was all praise not just for the documentary but also for the non violent struggle and the principles it stands for.
Commenting on the release of 'Millions Can Walk', the actress said, "Non violent marches have always been an integral part of India's struggle against injustice and are considered a momentous way to fight for your cause as it takes a lot of strength to make your point without being aggressive. 'Millions Can Walk' tells the story of one such effort by the Adivasis of our country in a very effective way. Surely our country needs more films like these which are made not only for the niche audiences but are also watched by more people because these are stories that need to be seen, told and heard beyond all borders".
Baffled by media's blanking of grass-roots issues: Kamal Musale
Dna's Yogesh Pawar caught up with Kamal Musale for a chat about 'Million Can Walk' and India's social issues.
Please, click on the following link for the article:
http://www.dnaindia.com/lifestyle/interview-baffled-by-media-s-blanking-of-grass-roots-issues-kamal-musale-1958801
Interview of Kamal Musale for Mint on 'Millions can walk'

"The idea was to document the march but to also follow the characters" says co-director Musale. "We researched big dams, went to a lot of villages, and selected the characters from places where the Ekta Parishad is active". And he added also: "India in general is in a strange spiral—it has a lot of foreign investment, but the differences between the rich and the poor are also widening".
Please, find the link below to read the article:
http://www.livemint.com/Leisure/d1Sr9Voe3EZUziDOtmejTK/Mumbai-International-Film-Festival-Preview–Millions-Can-Wa.html
'Millions can walk' by Christophe Schaub and Kamal Musale, at MIFF 2014

Commenting on the release of the film, director Kamal Musale, said, "Millions Can Walk is the story of a struggle for justice. It's about a huge and silent mass of people who found a powerful way to claim for their rights. Our movie documents their non violent action, compelling the government to heed them. We wanted to give this historic protest a permanent voice and to inspire people to stand up for their rights."
 Millions Can Walk is an eye opening documentary about a 400 kilometer protest march by 100,000 indigenous inhabitants and landless farmers from Gwalior to Delhi. Their demand? Their right to existence and obtaining a beneficial Land Reforms Act to provide access to land and livelihood resources to the poor landless, homeless and marginalized communities. With a voice-over providing background history, this narrative documentary is interspersed with interviews of the participants and the minister responsible for handling their ordeal. It shows the multiple facets of this imposing protest march and focuses as well on the daily realities of these proud people.
How can one fight for one's rights without using violence? With such an important contemporary question, the film spreads far beyond the borders of India, it reflects what is happening all over the world: in Brazil, in China, in Indonesia: "all these countries want to catch up as much as they can with the rich countries of the world. They want to be attractive for investments and therefore put productivity first, with disregards to displacement of people because of factories, water dams or reservoir, or other land grabbing issues. The victims are of course the weaker one economically, the indigenous people or the untouchables. Capitalism in this fashion, without guardrails, without ethics or values, is growing as an ever starving uncontrolled monster whose appetite and pollution endangers society at large."
Eurindiamedia attended the 2014 'MIFF HUB'
This is a new initiative at Mumbai International Film Festival 2014 providing a vibrant platform and meeting point for documentary filmmakers to network, interact and develop productive contacts with global and Indian funders, broadcasters, distributors, co-producers and mentors. The hub, held on 6th of February, was about festival strategy, funding, distribution and co-production.
In that occasion, Eurindiamedia's founder and representative Kamal Musale, shared his long-time professional experience in co-production, leading Round Table discussion, Group Mentorship and giving one to one consultancy.
Motoco – the road-movie – Istanbul teaser
Following twenty students and staff from Hyperwerk, the post-industrial Institute for design in Basel, director Kamal Musale has been filming the experimental movie for a month together with fellow film-maker and journalist Andreas Hoessli.
The half-hour film is now being edited by Selina Nayyar at Curry Western, Mumbai. Original music is from Turkish composer Nazim Cinar.
The road-movie started in Basel, passing through Trieste,visiting art schools in Zagreb and Belgrade, saw Sofia, and eventually arrived in Istanbul to meet with the students and professors from the Yildiz Design and Architecture departments. The workshop in Istanbul has been producing material that will be presented at the International Design Exhibition from June 6 in Basel. The first part of the movie is now being edited by Selina Nayyar, our inhouse editor.
The Motoco project involves design students from schools in France, Germany, Switzerland, Croatia, Serbia, Greece, Hungary, and Turkey. The seconde phase of shooting will take place in India in 2013. Motoco Road-Movie is a coproduction between Hyperwerk Institute, Les Films du Lotus (Switzerland) and Curry Western Productions(India).
eurindiamedia is in Cannes Film Festival this year
You may contact Juiliane Schulze (contact@eurindiamedia.org) for an appointment.
eurindiamedia is a coproduction network plateform produced by Curry Western Pvt Ltd and peacefulfish Berlin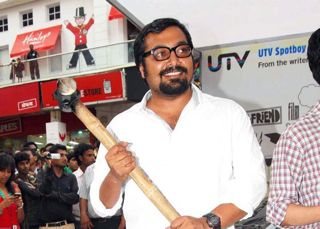 With his three films being screened at the ongoing Cannes film festival in different sections, the Indian director Anurag Kashyap is a happy man;  but he says his two-part revenge saga Gangs of Wasseypur almost did not get made as no one believed in the script initially. It is noted that Anurag is financing his films partly with an European business model.
It's a overall an interesting festival this year, not only because of the presence of more Indian films in different corners of the festival, but also with the forthcoming european projects set to be shot in India this winter. Indian coproducers are in demand !
For any quiery, please contact Kamal Musale (contact@eurindiamedia.org) for more information.
A presentation at the Visual Merchandising Design, Centre Doret in Vevey, Switzerland
Kamal Musale introduces Bollywood and the changes in art and business communication in India to a master class.
The class will visit Mumbai in March and be in touch with the film Industry through the Swiss Indian Film Bridge.
Unique in Switzerland, one of the 1st in Europe to offer advanced training in Visual Merchandising Design the School of Applied Arts in Vevey meets the needs of today's world, economic, institutional and cultural.
A workshop at the Swiss Institute for Postindustrial Design HyperWerk 
Conducted by Kamal Musale, the workshop is about the need for nomadic designers innovate tools and methods for dealing creatively with the digital potential.
A film production within the HyperWerk institute is planned in 2013, as an experimental documentary road-movie, in the form of a making-of, to be directed by Kamal Musale, and with the active participation of the Students of several Graphic and Art Schools in Europe and India.
Within the interdisciplinary and project oriented institute, around 80 students learn how to approach seemingly overwhelming problems and how to get surprising results through an intense exchange with the world.
To fulfill its claim as an institute for postindustrial design HyperWerk applies aspects of technology, design and management to influence and use the energies of social transformation.
 Swiss Indian Film Bridge Festival in Geneva
The Swiss Indian Film Bridge – SIFB, a production of Les Films du Lotus (Switzerland) and Curry Western Productions (India) – is organizing an Indian Festival in Geneva during the annual Fêtes de Genève, one of Europe biggest open-air Summer Festival in Europe, where India is this year's guest of honor.  The 3 days festival will take place at the CineLac Open-Air Cinema,by the lakeside, the 10-11-12 August 2011.
The films screened each night are :
Dev D– 10 August – 9.15 pm
Peepli Live – 11 August – 9.15 pm
The Three Idiots – 12 August – 9.15 pm
Wednesday 10 of August, the opening night will feature a presentation of the BNA Germany Annual Central European Bollywood Awards, rewarding the best films of 2010 (a 20 min. presentation from 8.45 pm) A special delegation is formed for this special evening, composed of the Indian Ambassador in Switzerland, the Consulate General of Switzerland in Mumbai, 
the Ambassador of Switzerland in India, and the Mayor of Geneva town.
These films are to be shown in partnership with CineLac Open-Air Cinema, a unique open-air film facility, in a beautiful site near the shores of Geneva's famous landmark lake. This idyllic spot is the perfect place to chill out, and enjoy happy hours, before indulging in an Indian buffet and an entertaining evening of Indian Cinema at its best.
The Swiss Indian Film Bridge is organized by Curry Western Productions in India and Les Films du Lotus in Switzerland.
Bumbai Bird
First feature film in Hindi by Kamal Musale, Bumbai Bird, received the support of the Fondation Vaudoise for the Cinema, as well as some private financing from India. The first part of shooting has been completed, and the second part shall take place in October. The feature release is planned in 2012.
A poetic story, in which a soul is the compassionate witness of different lives in Mumbai. Bumbai Bird is a film in the making, it is being written as it is being shot and edited step by step. Here you can see an assembly of the first step of shooting. This work in progress is planned for a release early 2012.
This feature film is a coproduction between Curry Western Productions (India) and Les Films du Lotus (Switzerland). Produced and directed by Kamal Musale.
Taj Enlighten European Film Festival
Taj Enlighten European Film Festival
Taj Enlighten Film Society, supported by the Consulate of Switzerland organised an European Film Festival in Mumbai in June 2011 .
The selection included a retrospective of Jean-Luc Godard and a Swiss film package.
The festival was inaugurated by Swiss-Indian filmmaker Kamal Musale and Indian filmmaker Amole Gupte. There was also a workshop on documentary filmmaking by Kamal Musale.
The screenings were held across five venues in Mumbai: National Centre for Performing Arts, Cinemax Versova, Metro Big Cinemas, World Media College and Mumbai Times Cafe.
Kamal Musale at the opening of the European Film Festival in Mumbai
Interview of Kamal Musale for Dear Cinema.com by Nandita Dutta
"I want to make Indian films for audiences in Europe": Swiss-Indian filmmaker Kamal Musale on his origin, his films, co-production and his upcoming film in Hindi.
KM_itv_dearcine (Click to download)
A workshop with Kamal Musale World College- School of Media Studies (Malad)
A workshop with Kamal Musale interspersed film film screenings at World College- School of Media Studies (Malad) on 4th June,2011 at 4.00 PM.
World college, school of media studies has invited Swiss-Indian film maker Kamal Musale as a guest lecturer for a workshop were he will give special lectures and share his knowledge, experience and understanding of cinema . He will share his views on emphasizing the importance of documentary film practice even in conventional, narrative cinema and the importance of filming over script construction. Kamal will present different Swiss films : Sound of Insects (Peter Leichti,2009) and Tosca's Kiss (1984, Daniel Schmidt,87 minutes). Kamal Musale will also screen some of his work, including the poetic documentary Courrier Du Pacifique (1998, 35 minutes) and Raclette Curry (2000, 8 minutes).